Premium Game Servers
ARK Server Hosting without hassle.
We take care of your ARK hosting needs so you can focus on what really matters - playing.
Steam & Epic Games Crossplay Supported (PC)
Order Now
Unlimited slots and usage
7-Day Money-Back Guarantee
Rated by our customers
Spend less time configuring.
Have everything you need to configure your ARK server in one place. With our easy-to-use settings manager, you can tweak more than 200 different aspects of your ARK server with the click of a button.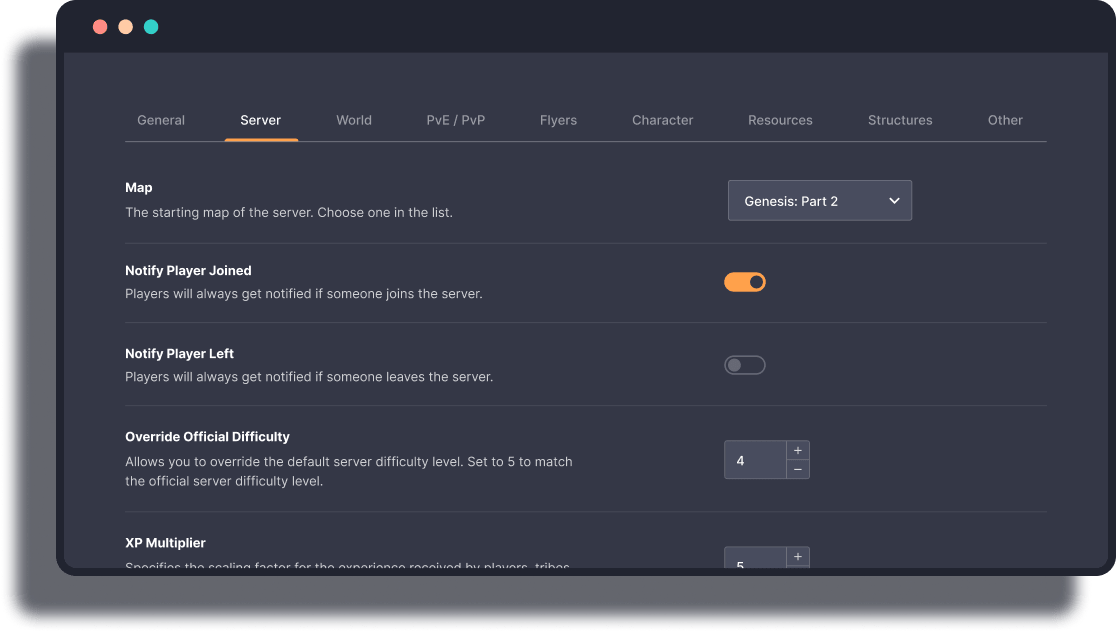 Install mods with one click.
With our one-click installer, you can simply enter the mods Steam Workshop ID and we'll take care of everything from installing to updating. The hassle of downloading and installing ARK mods manually is a thing of the past!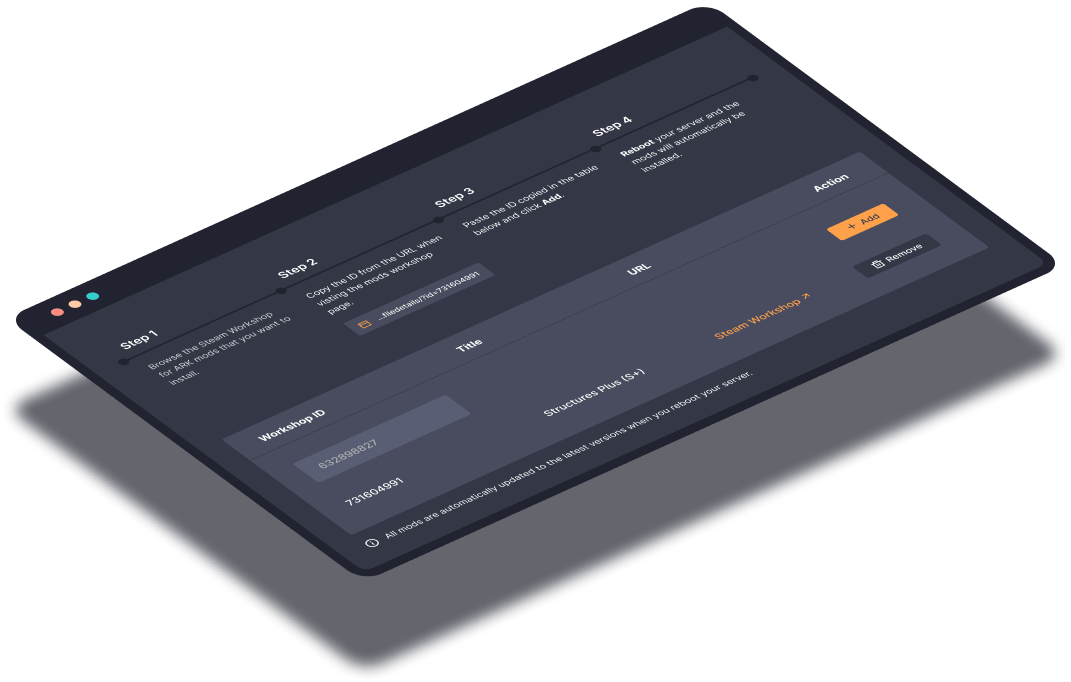 Why DatHost
ARK server hosting that just works.
No lag, no latency
Lag-free? You betcha! Our ARK servers are powered by the best networks with modern CPUs and SSDs to ensure you never experience any lagginess.
Auto-updates & backups
You're in good hands. We make sure you're up-to-date with the latest ARK server updates within 15 minutes. Oh, and we have daily backups too!
DDoS protected servers
You can rest assured that your ARK server will never go down with the DDoS protection we offer. With up to 2 Tbps capacity, there's enough capacity for even the most serious attacks!
Configure with ease
Managing your ARK server has never been easier with our custom-built control panel! We also have an excellent File Manager to browse and manage all the server files.
What do our customers say?
Join the 300.000+ users already using DatHost for their game server hosting needs.
The Control Panel for customizing my ARK server is so easy to use and the server works great!
Your service has been super reliable and easy. Used it for Valheim before and now for ARK. Good work!
Very happy with the server so far. Good stability, no latency between players & helpful staff.
Just amazing. Simple setup, cheap, reliable... 10/10 would recommend!
Service is affordable, reliable, and easy to use. Recommended!
Easy to set up. Good tools. Reliable. Ease of use. Great price.
Frequently asked questions
What is ARK?
Studio Wildcards ARK: Survival Evolved is a world full of dinos, where you must use your skills to survive. Explore the mysterious island called ARK, taming or breeding leviathan dinosaurs are just a few ways players can get through this wild landscape. Form tribes with your friends to survive on the mysterious ARK island.
How to join an ARK Server?
Joining an ARK server from Steam is pretty straightforward. Copy the IP address found in your Control Panel and go to Steam → View → Servers → Favorites → Add a Server → Paste the IP → Connect.
How to install ARK server mods?
Using our ARK one-click mod installer, it's easy to install any mod. Browse the ARK Steam Workshop for some mods that you like, take note of the ID (the digits at the end of the URL) and paste that into the Mods & Plugins page of your server. Now when you reboot the server the mods will automatically install.
How do I update my ARK server?
We automatically update your ARK server within 15 minutes after a new update has been released, then we reboot your server whenever it's empty for the update to take effect. You can also manually reboot your server after a new update has been pushed.
How to use ARK admin commands?
Open up the console, usually by pressing TAB, and type:
enablecheats <youradminpassword>
The admin password can be set on the Settings page of your ARK server. Now you have access to a bunch of admin commands in your ARK server!
Can I set up multiple ARK servers in a cluster?
Yes. Simply order several servers and request your server to be clustered from the Control Panel and we will enable it. ARK Clustering is a way to connect multiple servers so you can trade characters, dinosaurs, and items through the Obelisk in-game.
What are the hardware specifications of your ARK servers?
Our ARK servers are built with high-performance CPUs from AMD or Intel, 128GB of RAM, and SSD storage to ensure smooth and efficient gameplay.

Unlike other providers, we do not impose any limitations on your server's capabilities based on CPU or RAM usage. Your ARK server will have access to the full performance it requires.
Stop stressing out about your ARK server hosting needs.
We got you covered!
Rent Server Now
Only € 12.9 / month. Unlimited slots and usage.
7-Day Money-Back Guarantee. Cancel anytime.