Premium Game Servers
V Rising Server Hosting made simple.
Hosting doesn't need to be complex. We have user-friendly interfaces and servers that simply just work, so you can focus on playing the game.
Monthly
Quarterly
Yearly
Order Now
40 Player Slots · Unlimited Usage
7-Day Money-Back Guarantee
Rated by our customers
Fine-tune your server to perfection.
Unleash your creativity and mold your V Rising server exactly as you envision. With our intuitive settings manager, you have the power to customize every detail, from adding a server description to scheduling PVP action.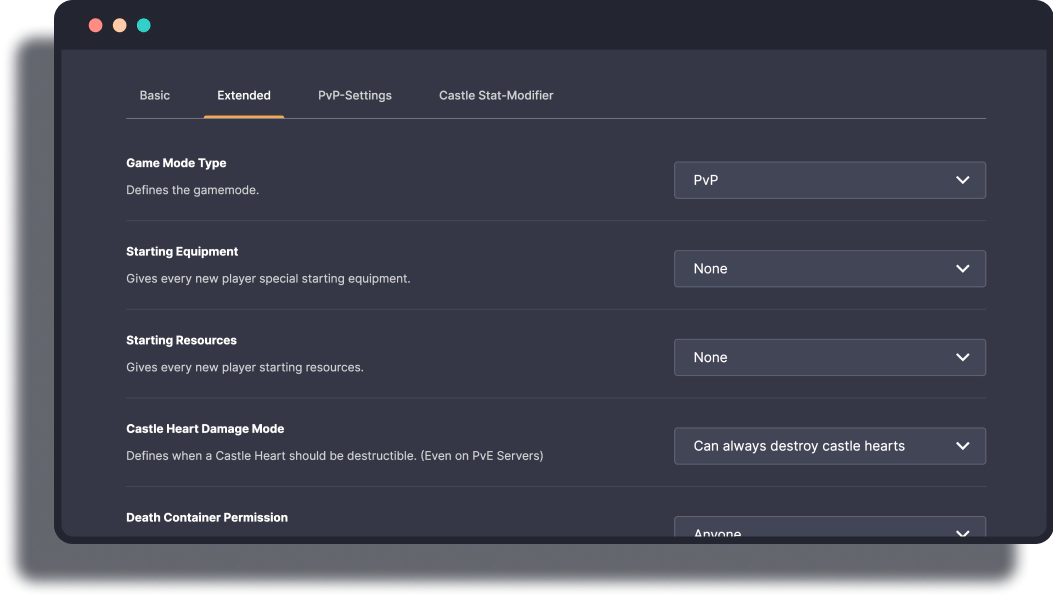 Maintenance-free server hosting.
We will take care of all the tedious tasks so you can focus on playing. New V Rising updates are pushed within 15 minutes after release, and we'll also backup your server daily to allow for easy rollback if necessary.
Why DatHost
V Rising server hosting that just works.
No lag, no latency
Lag-free, smooth performance is our priority! Our V Rising servers are powered by the best networks with modern CPUs and SSDs to ensure top performance.
Upload your save
Uploading your save files is easy! Simply use our File Manager to upload them and continue playing where you left off.
DDoS protected servers
V resisting! Our DDoS protection offers up to 2 Tbps of enterprise-level capacity, so you can rest assured that your V Rising server won't go down.
Configure with ease
With our custom-built control panel, you can manage your V Rising server in a flash. We also have an excellent File Manager to browse and manage all files.
Ultra-fast servers around the world
We provide the best V Rising server experience with our high-speed servers that are located all over the world.
26 Locations
21 Countries
120+ Tbps Network
We don't just talk the talk, we walk too.
Don't just take our word for it, listen to the 300 000+ people already using DatHost today!
Very simple and clear interface yet lacks no functionality. I like it - very nice.
Your control panel is EASY to use. The prices are very nice and the game servers run smoothly.
Great price, reliable servers, easy to use, and incredible branding/design! Easily 10/10!
Have only needed help twice, and both times the agents were wonderful. Everything just works!
Service is affordable, reliable, and easy to use. Recommended!
Just amazing. Simple setup, cheap, reliable... 10/10 would recommend!
Frequently asked questions
What is V Rising?
V Rising is a game that starts with you being an awakened vampire. You must hunt down blood in nearby settlements to regain your strength and evade the scorching sun before you lose all power! Raise a castle, thrive in an open world full of mystery, as well as gain allies online that will help conquer this land for survivors like yourself…
How to join a V Rising Server?
The quickest way to connect to a V Rising server is using the direct connect option in-game:

Copy your IP address → Start V Rising → Play → Online Play → Find Servers → Direct Connect → Paste IP address and click Connect.
How do I update my V Rising server?
With DatHost, we update your V Rising server within 15 minutes after a new update has been released, then we reboot your server whenever it's empty to push the update - avoiding any interruption or downtime.
How to use V Rising admin commands?
Enabling admin commands using DatHost V Rising servers is easy!
Add yourself as an admin with one click from the Settings page.
Make sure that you have console enabled in your V Rising in-game settings, and then press the tilde (`) key just below ESC to open the console.
Type "adminauth" to enable admin access
Now you can type "List" and press TAB to complete the auto-fill and then press Enter. A full list of all available commands will be displayed.
What do you mean by "Unlimited usage"?
We take pride in offering top-notch service to our customers. Our unique approach with "Unlimited Usage" means that we don't put any restrictions on your server's RAM or CPU usage. Your server will always be up and running smoothly without you needing to worry about it!
Can I upload a previous world save?
Yes! Uploading your world save is easy using our File Manager. Simply drag and drop your files and you can continue playing where you left off!
How much does it cost to host a V Rising server?
Hosting a V Rising server at DatHost is only € 10.90 / month for 40 player slots and unlimited usage! Additionally, we offer up to 20 % discount if you commit for longer terms (quarterly or yearly).
Let's stop worrying and start enjoying!
You can trust us to take care of your V Rising server hosting needs.
Rent Server Now
Only € 10.90 / month. 40 player slots - unlimited usage.
7-Day Money-Back Guarantee. Cancel anytime.