Premium Game Servers
Valheim Server Hosting that just works.
We take the hassle out of server hosting so you can focus on playing the game you love.
Steam & Xbox (Console & PC) Crossplay Supported
Monthly
Quarterly
Yearly
Order Now
10 Player Slots · Unlimited Usage
7-Day Money-Back Guarantee
Rated by our customers
Your Valheim world, hosted by the pros.
With our world manager, lost progress is a thing of the past. Store endless adventures, switch between worlds smoothly, and create unique experiences with modifiers for adjusting raid frequency, resource rate, and more.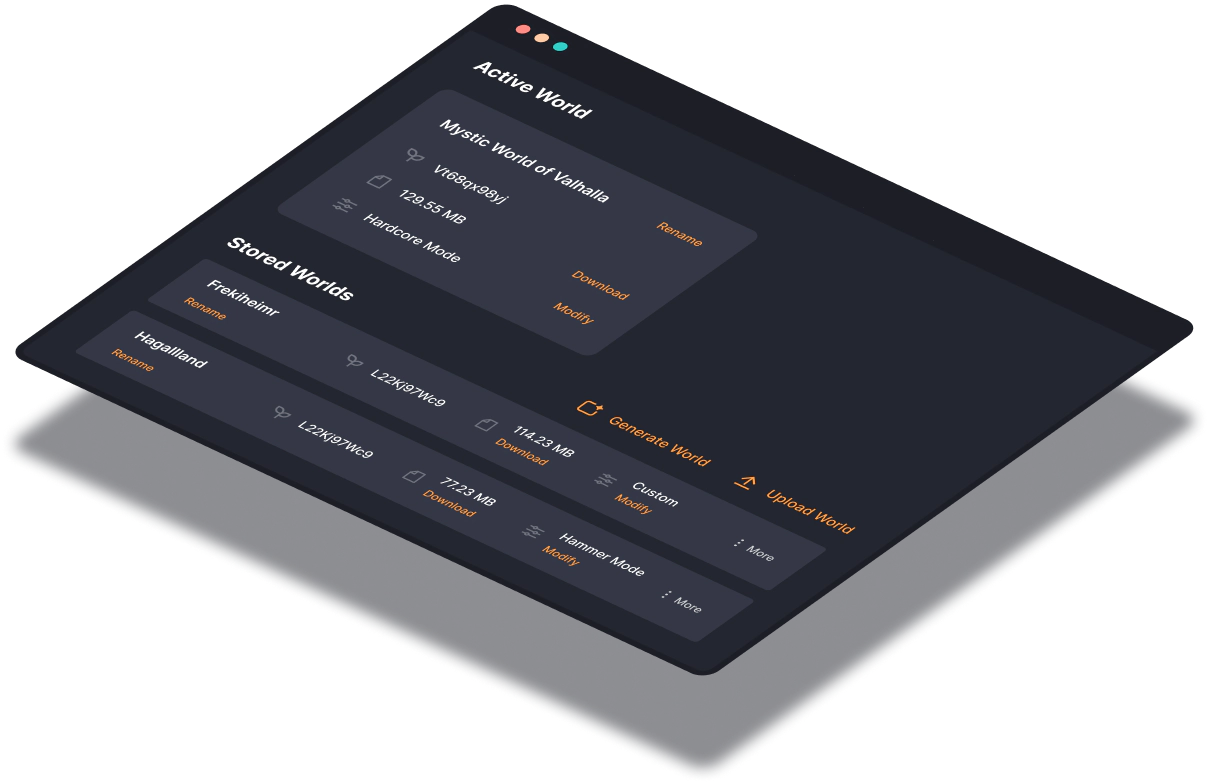 We make modding easy.
When you're in the mood for a new adventure, why not take it up a notch? Mods are great ways to customize your gameplay and give yourself more freedom. The one-click install makes installing mods simple and quick.
Why DatHost
Valheim server hosting without compromises
High performance
We understand how important it is to have low latency and smooth performance, which is why our servers run on the best networks with modern CPUs and SSDs so your Valheim server experience will be lag-free.
Auto-updates & backups
We make sure your server is up-to-date with the latest updates within 15 minutes. We also take care of daily backups on your server, so there's no need to worry about data loss.
DDoS protection
You can always trust us to have your back. We offer up to 2 Tbps of enterprise-level DDoS protection so you don't need to worry about the server going down.
Simple configuration
With our custom-built Control Panel you can configure your server settings with ease, as well as manage files using our excellent File Manager!
Ultra-fast servers around the world
We provide the best Valheim server experience with our high-speed servers that are located all over the world.
25 Locations
20 Countries
120+ Tbps Network
What do our customers say?
Don't take our word for it, listen to the 300 000+ people already using DatHost today!
For Valheim it is the best host I've used. The control panel is amazing, you can switch worlds with one click!
I am not the most computer literate and this site makes it easy to run and modify our Valheim server!
With how easy it is to get mods for a server your service is by far the best out there.
Have only needed help twice, and both times the agents were wonderful. Everything just works!
Your control panel is EASY to use. Your prices are very nice and the game servers run smoothly.
Easy to use, allows multiple saves, very user-friendly interface. 1000x better than any other host I've used!
Frequently asked questions
What is Valheim?
Valheim is a Viking-themed game of exploration and survival for 1 - 10 players, where you battle to conquer your way through the procedurally-generated worlds. You can build a castle that will never fall, sail on mighty ships towards the horizon and fight with weapons of destruction. A truly breathtaking presentation combined with an intense gameplay experience awaits you within these walls - will your legacy be remembered?
How to join a dedicated Valheim server?
There are three methods that can be used to connect to your Valheim server: Join with IP in-game, Add your server to Steam favorites, or through the community listing.
To join with the IP address, simply copy the address shown in the Control Panel and paste it in-game. Note that there are different ports, so make sure you copy the correct one.
To add your server to Steam favorites, simply copy the address shown in the Control Panel and go to Steam → View → Servers → Favorites → Add a Server → Paste the IP → Connect.
The community listing is a bit unreliable at the moment so we recommend the two options above. If you would like to try anyway, go into the game → Join Game → Community → Search for your server → Join.
You can read our full
step-by-step guide on how to connect to your Valheim server here.
How to install BepInEx mods?
When you use our Valheim one-click mod installer, it's easy to install BepInEx mods. With a single click, you can install several different mods, or you can simply upload your own!
Can I download the world files from the server?
Yes. With our Valheim world manager, you can easily download any world progress with a single click. In addition to that, we have daily backups of your Valheim server and if something goes wrong it's as simple as restoring the previous version!
How to update my Valheim server?
Your Valheim server is up-to-date thanks to our automated system! The updates are pushed within 15 minutes of release, ensuring you never miss out on the latest Valheim features.
How to upload my current Valheim world?
Uploading your world is easy with our Valheim World Manager. Simply drop your world files, hit "Upload" and you're ready to go!
Can I upload a Valheim world that was started on my Xbox Console?
Yes, it is possible to upload a Valheim world from an Xbox console to a DatHost Valheim Server using a workaround that involves using a PC to move the world files off the cloud and then uploading them to DatHost.
Check out our help article here
for a full step-by-step guide on how to locate the Xbox saves on a PC, move them off the cloud and then upload them to DatHost via the Control Panel.
Do you support Crossplay on your Valheim servers?
Yes, our Valheim servers support cross-platform play across all platforms, including Steam, Xbox PC, Xbox One, and Xbox Series X|S.

Players on PC versions can join using the server's IP address, while players on Xbox consoles can use a join code that's visible in the dashboard. This way, you can easily play with your friends no matter which platform they are on.
Do you support World Modifiers on your Valheim servers?
Yes, our Valheim servers support World Modifiers. Easily modified through our modifiers interface.

We cover all settings, from Combat, Death penalty, Recourse rate, Raid rate, Portals, and difficulty (presets).
Are there any performance limitations on your Valheim servers?
No, there is not. Unlike some other providers, we do not limit the capabilities of your server based on CPU or RAM usage in order to upsell more expensive options. Your Valheim server will have access to the full performance it needs.

Our Valheim servers are equipped with top-of-the-line CPUs from AMD or Intel, 128GB of RAM, and SSD storage to ensure optimal performance.
You can stop worrying about your Valheim server hosting needs.
We'll take care of everything for you.
Rent Server Now
Starting from € 7.92 / month. 7-Day Money-Back Guarantee. Cancel anytime.